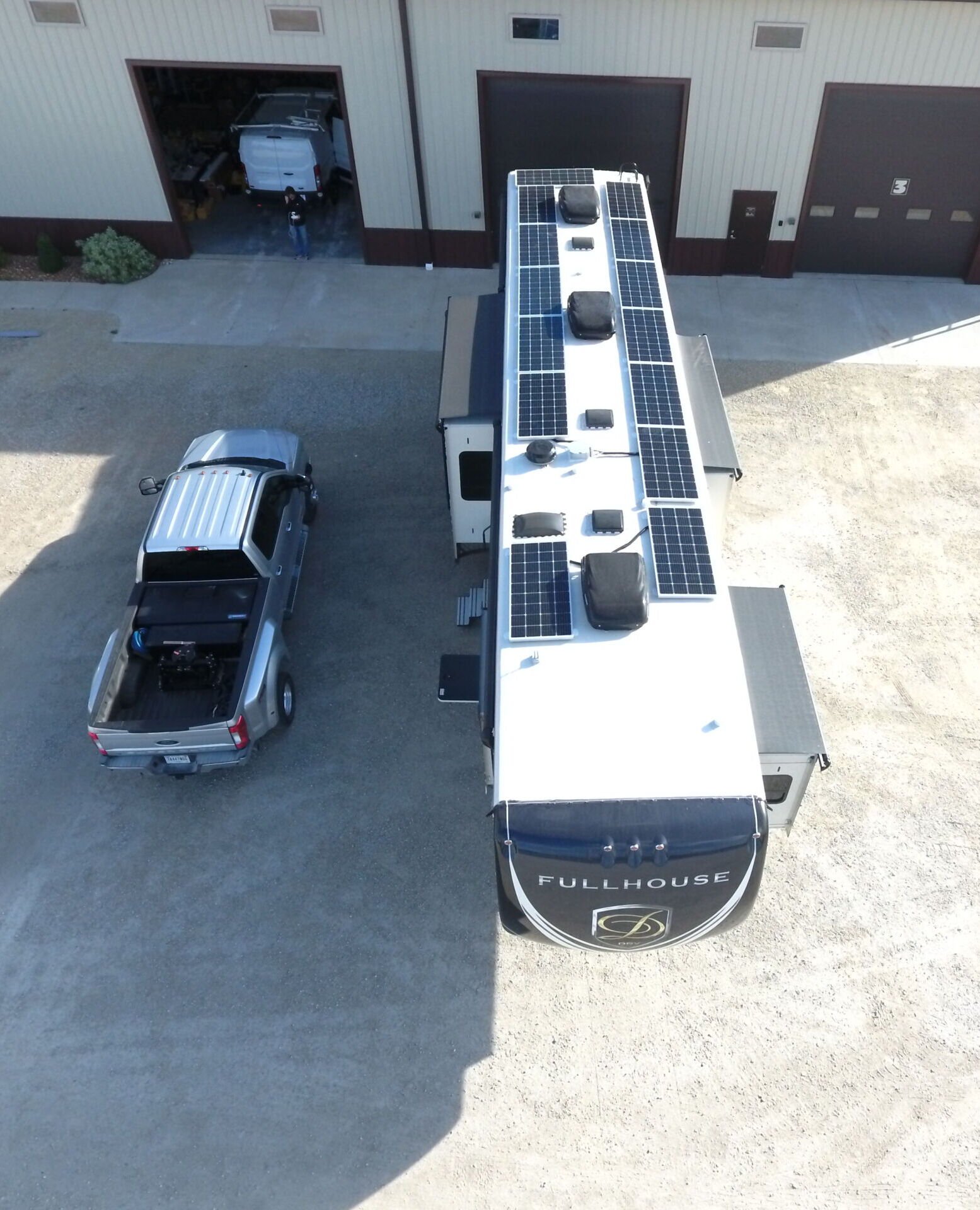 Explore
The Power of Mobile Solar

For Full Time Travelers
As a full-time traveler, you may have experienced the challenge of finding a reliable power source to keep your RV or mobile home running smoothly. The good news is that solar energy systems have become an increasingly popular solution for those seeking to live off the grid or simply reduce their reliance on fossil fuels. With a solar system installed on your RV or mobile home, you can enjoy the freedom to travel wherever you like while still having access to a consistent and sustainable power source. Let's explore the benefits of RV and mobile solar systems and how they can help you meet your energy needs while on the road.
Find Out Why Full Time RVers Love S.E.S. Indiana
Gain confidence in knowing others have found value in working with Solar Energy Systems to upgrade their RVs. Our installation facility is fully stocked with 1000's of RV solar components and our specially trained staff works efficiently while treating you like family.
Unleash the Power of Solar Energy for Your RV and Off-Grid Adventures
Going solar for RVers and off-grid vehicles can offer numerous benefits such as reducing dependence on non-renewable sources of energy, lowering operating costs, increasing energy efficiency, providing reliable power in remote locations, reducing noise pollution, and offering a more eco-friendly and sustainable lifestyle. With the advancements in solar technology and the availability of affordable solar systems, it is now easier than ever for RVers and off-grid enthusiasts to harness the power of the sun and enjoy the benefits of clean, renewable energy.
The Benefits of RV Solar
Energy Independence & Freedom

Cost Savings on fuel and camping

Environmental Sustainability

Easy Maintenance and reliability

Improved Safety and security
1. Estimate & Evaluation
When you contact us for a quote and rig evaluation, our team will conduct a thorough assessment of your needs and equipment to determine the optimal solar system design. We will take into account factors such as roof/storage or space, shading, and energy usage patterns to create a tailored solar solution for your mobile solar needs.
2. Detailed Design & Proposal
Once we have completed the design process, we will provide you with a detailed proposal that outlines the costs, savings, and financing options for your solar system. We will also assist with any necessary requirements or inspections to ensure a smooth installation process.
3. Bringing Your System Online
Once approved, a team of experienced RV installers will prepare to begin the installation process. You will bring your RV or mobile vehicle to our outfitting shop located in Nappanee Indiana. Installation typically takes between 1-3 days depending on the size and complexity of the system. Our installers will work efficiently and carefully to minimize any disruption to the owner's daily routine. Upon completion, the installation crew will walk the owner through the system's operation and provide them with all necessary information and even a personalized training.
Request a detailed estimate